Find Out Why You Should Hire The Best Brentford House Cleaning Service TW8
Maintaining a clean home can be a daunting, harrowing, and never ending task. No matter how much you do one day, it will always begin again the next. It is more than understandable to hire out someone else to do the job for you – almost no one wants to spend the few spare hours a day they have cleaning the home. You've earned those spare hours, so you should be able to do what you want with them. And unless what you want to do with them is clean, you will need to hire a cleaning service to ensure you home is kept at a certain level of cleanliness. If you don't have enough hours in the day to clean, then pick up the phone and dial 020 3743 8343 to talk to our team of house cleaners Brentford. At Brentford Cleaners, we pride ourselves on our professional Brentford TW8 home cleaning service, providing the best that money can buy.
As previously touched upon, the main advantage of hiring out one of our Brentford house cleaners is that it means you don't have to. Some of us may have the spare time but cleaning is simply a chore we detest – scrubbing floors, cookers, carpets, bathrooms etc. is not a fun task, so it's understandable that you wish to hire out someone else to do it for you. Our team of TW8 domestic cleaners will come into your home and clean any room you desire. This simply means that you won't have to do these menial chores. So if you're in need of a cleaner, dial 020 3743 8343 to get a free quote. Our agents will also be happy to answer any other questions you might have.

Also as previously mentioned, hiring out our service will mean that you have more spare time to do what you wish. If you work for the majority of the working day with only one or two days off a week, the last thing you want to do is to have to put in an hour a day to maintain a clean home, let alone your weekends. You work so that you can spend your free time doing what you wish – and for most of us, cleaning is not what we wish to do. So if you are lacking the hours, give our dedicated team of Brentford house cleaners a call to see if we can offer a service that is right for you.
Opt for One-off House Cleaning Today and Make Your Home in TW8 Area Pristine In No Time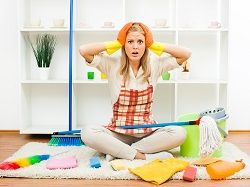 You might require a cleaner for a one off purpose. For example, if it's just been a while since you've carried out a deep clean of your home, you might just require our service for a spring cleaning. Or if you're moving home and you're trying to make your house more attractive to potential buyers, you also might require our service in order to make your home pristine, which, in turn, will make your home more attractive for those in the market for a new place to live. Call Brentford domestic cleaners to see how much a spring clean will cost you.
We Can Give You the Best House Cleaning Help in Brentford TW8
You may require a cleaner on a weekly basis - one that comes in a couple of hours a week to help you maintain a tidy home. We offer competitive rates, which are probably not as expensive as you may think. There's no harm in giving us a call to see what it will cost you.
Whatever your reason for needing a Brentford TW8 domestic cleaner, we here at Brentford Cleaners can offer you a service that is right for you. Don't hesitate to call our dedicated team of TW8 home cleaners on 020 3743 8343 to see what we can offer you.